The inflight wi-fi is nothing new at present. But back in the 2001 Paris international show, Boeing launched something called their Connected Aircraft. 
But Qantas rolled out free inflight wi-fi across their domestic flights like Boeing 737 and Airbus a330 since 2017. But the actual question is, is it good enough? How fast is it? What can and can't we do with it?
Don't worry. We're here with another article, and in this article, we'll be letting you know and answer your queries about the Qantas wifi. So don't miss any part. Read the article to the last.
So, let's start…
Some people don't really mind the idea of literally leaving the world below them and being a bit disconnected when they are on a plane. Yes, you can call them old-fashioned, but it is all it is!
But people do get benefits if they are traveling for business purposes between main cities to have in-flight wi-fi.
To serve this purpose, Qanats Airlines rolled out a free inflight wi-fi service for the domestic passengers who will be flying in Boeing 737 and a330. These are the domestic flights that operate in Australia.
But hold on! Don't get too excited; just read the above part. It is to note that all domestic flights of Qantas Airlines are wi-fi enabled. They have allowed free wi-fi service for a few domestic flights.
 If you want to know if your flight has inflight wi-fi or not, it isn't easy! There's no real way of knowing at he the time of booking on the Qantas whether your flight has free wi-fi or not.
The probable reason behind this is, it's not across all the fleet, and the fleet movement means they're not sure which aircraft to be operating which leg.
How to know if your flight has QF inflight WiFi or not?
As all the Qanats airlines don't have a wi-fi facility, it might be difficult to know which one is wi-fi enabled and which one isn't.
So here are a few ways to identify if your aircraft has wi-fi or not.-
 When you're booking and seeing the icons, you can understand what aircraft type it is and what other facilities it provides. If it has this kind of blocked wi-fi signal, if it's in black, it means your aircraft could possibly have wi-fi. But it's not guaranteed, but it may be on board.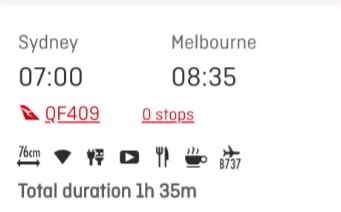 If the symbol is greyed out(like the below picture), it means the aircraft doesn't have wi-fi.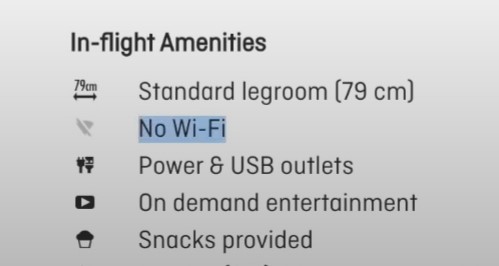 When you're at the departure board, a lot of flights have the wi-fi symbol next to the name of the flight. So if you notice there, you can know if your flight has wi-fi or not.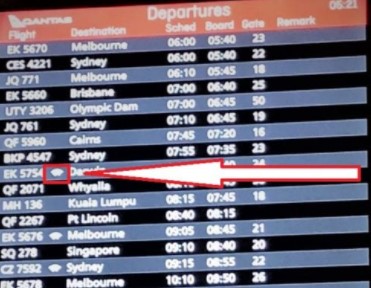 Lastly, when you jump onto your seat, there will be a leaflet in your seat pocket, which gives you information about the fact the aircraft is wi-fi enabled and the steps to connect it.
How to activate the Qantas Free inflight WiFi
To connect to the wi-fi service-
first, go to your internet settings and find Qantas Free wi-fi connection.
Click on Qantas Free wi-fi to connect to that wi-fi network, and once you've done that, you go to Qantas WiFi of your browser.
Then you've to enter your first name and last name and seat number to get on the wi-fi network.
Then, agree to the privacy policy, terms, and conditions and click on the connect button, and that will get you connected to the network.

How fast is the connection?
After running a very few tests with the network, the result on upload and download speed came out pretty much the same. It provided a constant speed throughout the whole time.

The stability and consistency of the connection for the whole time were very much stable.
Download Speed:
When the speed test was run, the download speed was shown around 15 Mbps. This is a standard speed for using Whatsapp, Facebook, and emails. It is also good from a streaming point of view.
Upload Speed:
The upload speed is very slow compared to the download speed! After rerunning the speed test, the speed that we got was only .25 Mbps. This means, while you can pull content down and stream content over that excellent fast download speed, from an upload point of view, it means pushing files to a server.

If you want to upload youtube videos, then DON'T! It wouldn't work. Even if you have things like emails with large attachments, we'd recommend you to finish those tasks before jumping on board. If you wish to do so, they'll take a long time to get sent.
Does Qantas Airways help Netflix with wifi?
Qantas Airways wi-fi supports Netflix and helps you to download Netflix videos on onboard computers and mobile devices.
Can you use wireless headphones in Qantas?
If you want to use wireless Bluetooth devices, you can use them aboard Airbus 330, Airbus 380, Boeing 787, Boeing 737, and QantasLink aircraft at any time.
But one thing you should have in your mind is that, during takeoff and landing, your Bluetooth device must be turned off!
What are the don'ts in Qantas wi-fi network?
You can chat and do text messaging while remaining connected to the Qantas wi-fi network. But the thing you can't do is VOICE and VIDEO MESSAGING. Sending voice messages and videos is not allowed in the Qantas wi-fi network. So you cant do FaceTime on skype or other platforms.
How much cost of Qantas Airlines WiFi?
it's completely free of cost.
Is Qantas Airways WiFi support international flights?
No. this service is only for domestic flights.
What is the Qantas Callsign, IATA & ICAO Code?
IATA – QF, ICAO – QFA & Callsign – Qantas
Who is the Qantas InFlight WiFi service provider?
Viasat
Conclusion: All right, let us know your thoughts on in-flight wi-fi in the comment box. Share your experiences with us, whether it's a good or a bad one.
So thank you for reading this article to the last. I hope this article was able to serve your purpose by letting you know everything about Qantas Airline's Wifi. Still, if you've any queries, don't hesitate to ask us. Good luck!
See More Related Article